Water scarcity affects 1 in 3 people in the African Region, according to the World Health Organization. Moreover, as one of the most water-stressed countries in the world, South Africa experiences 115 deaths every hour from diseases linked to poor hygiene, improper sanitation, and contaminated water. While attaining safe, clean drinking water in Africa can be challenging, it is not impossible. There are a number of sustainable clean water solutions that can be implemented to provide families in Africa with access to safe water. Learn about a few of the most efficient ways to get clean water in Africa and how you can donate to the cause.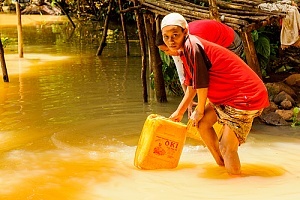 Set Up Rain Catchment Tanks
In areas that receive adequate rainwater, a rain catchment system can be an economical solution to water scarcity. Also referred to as "rain harvesting," these systems work by connecting downspouts (pipes for carrying rainwater from a rain gutter) to a water tank that is capable of holding up to 100,000 liters of water. Rain catchment tanks are cost-effective, easy to use, and are often used as primary sources of water in water-stressed areas. By collecting rainfall in rain catchment areas throughout the year, communities are able to maintain access to water during drier seasons of the year.
Protect Natural Springs
Natural spring water has been used for centuries as a form of water supply. However, if a spring is not properly protected, it risks being contaminated which makes the water unsafe to drink. Spring water supply systems are typically constructed by building a spring box or spring house around the spring to keep out animals, leaves, and debris. The water from the spring can then be piped to a holding tank or hand dipped. Unfortunately, springs are open to groundwater run-off which makes them easily contaminated. Furthermore, because the water source may also be easily tampered with, a protective owner must ensure that it is covered around the clock to keep the water safe and clean.
Install Sand Dams
Sand dams are a low-maintenance and low-cost solution to getting clean water in Africa. A sand dam is essentially a reinforced cement wall that is built across a sand river. The dam helps retain rainwater by capturing the soil laden water behind it, as the sand dam blocks run o water in the riverbed and stores clean water in the soil. This makes for a semi-reliable option for water conservation in dry environments. A mature sand dam can store millions of liters of water – refilling after each rainfall providing a year-round supply of clean water to hundreds of people. In addition to providing a reliable water source to communities living in rural, remote areas, sand dams can also provide enough water for tree planting and vegetable nurseries.
Rehabilitate Old Wells
Many communities in South Africa are able to receive clean water through the rehabilitation of old wells. Fixing old wells can help address water, hygiene, and sanitation issues that are often linked to illness and disease. There are many ways to repair a well, such as building a wall around the top with a reinforced concrete drainage apron that prevents surface water from running into the well, in addition to utilizing sand dams (see above). Unfortunately, old wells must be consistently cleaned to stay free of disinfection by scrubbing down the sides with a chlorine solution to kill microbes. This makes them an efficient, yet hard to maintain option for clean water in Africa.
Build New Wells
One of the most effective ways to get clean water in Africa is through the building of new wells. While one of the simplest methods involves hand digging wells, this is a risky option due to the dangers involved in construction. Also, if left uncovered, these wells can also easily become contaminated, leading to water-borne illness. The building of "shallow wells" (lower in depth), in contrast, can provide clean water at a low cost, and are safer to build. Shallow wells can be built using a simple "small-rig" machine that has the power to dig up to 150 to 200 feet. They are also portable and can be moved from community to community. On average, the cost to build a well in Africa is about $8,000 USD. For this amount, a hole can be drilled and a pump installed that allows the community to access safe, clean drinking water. In addition, the village is provided with sanitation and hygiene training to minimize the risk of contamination. Each well is able to serve about 2,000 people and will generally last up to 20 years if properly maintained. To maintain the well and address repairs, a small group of leaders are selected from a village and trained to care for and maintain the well.
How You Can Get Involved
The water crisis in Africa affects millions of men, women, and children across both urban and rural communities. Lack of education and limited access to resources make it difficult for many African villages to find sustainable ways to get clean water. Fortunately, there are many charities and organizations backed by generous donors who are doing their part to end water scarcity in Africa. The Last Well is a charity for Africa dedicated to providing access to safe drinking water in Liberia. For more information about this cause or to donate to this charity, contact The Last Well today.