Lack of access to safe, clean water in Africa has caused numerous difficulties for African natives, forcing many into poverty. Moreover, with numerous causes to account for the present crisis, including an increase in pollution, the destruction of river catchments, and accidental water pollution, it is challenging to coordinate a comprehensive solution. To make matters worse, according to a report by the Pan Africa Chemistry Network, 75 percent of drinking water in Africa comes from groundwater that is used with minimal or no purification, resulting in widespread water-borne illness and death.
While the water crisis affects all areas throughout Africa, some countries are impacted more than others. In this brief article, we will review the countries that are most heavily impacted by the water crisis and who need aid the most.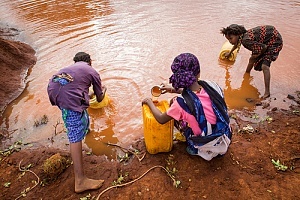 Libya
Located in the Maghreb region of North Africa, Libya is an oil-rich country consisting mostly of desert. As the population continues to climb while rainfall diminishes, Libya suffers from vast water scarcity. The problem is well-known and locals have made efforts to remedy the problem with solutions like "The Man-Made River Project." Unfortunately, the water crisis continues as the demand for water for agriculture and industrial use rises and the water quality standard falls. Libya is currently seeking better water management practices and going so far as to treat "brackish water" previously thought to be unusable.
Djibouti
Djibouti is an East African country situated on the Horn of Africa and surrounded by volcanic formations, dry shrublands, and Gulf of Aden beaches. The water crisis is caused by a nearly decade-long drought. According to the UNICEF, rainfall has decreased by half since 2008 and many shallow wells and cisterns have since dried up. Lack of safe drinking water has left more than 240,000 Djiboutians vulnerable due to malnutrition, destruction of crops, unemployment, and the death of cattle. Fortunately, the water crisis in Djibouti is improving. A partnership between UNICEF and the European Union has led to more than 25,000 people in rural communities gaining access to clean water.
Congo
Also known as the Democratic Republic of the Congo, the Central African country is considered to be the richest country in the world in terms of natural resources. That said, although Congo has substantial freshwater resources, it currently suffers from a lack of clean drinking water. Decades of war, poor infrastructure, and political corruption have all contributed to a water crisis that puts more than 51 million people at risk for waterborne illnesses. Clean water projects in Congo are in full-force to bring communities clean water and greater sanitation by installing hand pumps.
Liberia
Bordering Sierra Leone, Côte d'Ivoire, and Guinea, Liberia is located in West Africa and near the Atlantic coast. Although Liberia is one of the wettest countries in the world by annual rainfall, it lacks access to clean drinking water. Two civil wars have significantly impacted infrastructure and now nearly one-third of Liberians still have minimal access to a reliable source of clean water. The 24th and current President of Liberia, Ellen Johnson Sirleaf, is committed to solving the water crisis but many challenges remain.
Ghana
The Republic of Ghana is a country situated along the Atlantic Ocean and the Gulf of Guinea in the sub region of West Africa. In Ghana, nearly six million people rely heavily on surface water for their daily needs. Due to a lack of sanitation and purification methods, many people in Ghana suffer from water-related disease. There are a number of successful programs in Ghana that are working to reduce the water crisis by constructing new water facilities and providing locals with critical hygiene education. Communities are also now being given basic training on how to maintain wells, hand pumps, and similar water systems.
Nigeria
Officially called the 'Federal Republic of Nigeria,' the African country on the Gulf of Guinea is home to several wildlife reserves and natural landmarks. It is also where people die every day from waterborne diseases like typhoid fever due to poor water quality. Only about 19 percent of the population in Nigeria has access to safe drinking water due to economic water scarcity caused by the inability to properly manage and protect essential water sources. In addition to raising public awareness, Nigeria is working to improve their water quality monitoring network and tighten regulations regarding water quality control.
Learn More About the Water Crisis
Although water stress is present in countries around the globe, no areas are more affected than certain countries in Africa. While there are a number of reasons that water scarcity occurs in these countries, one thing remains the same. Millions of people are suffering the ill effects of having little to no safe water to drink. While much progress has already been made to improve the lives of Africans living in water scarce communities, there is still much to be done.
For these reasons, The Last Well is doing its part to provide access to safe drinking water to the entire nation of Liberia. For more information or to see how you can get involved, contact The Last Well today.